Army to pay $1.6 million to quiet noise complaints at Stuttgart area range
---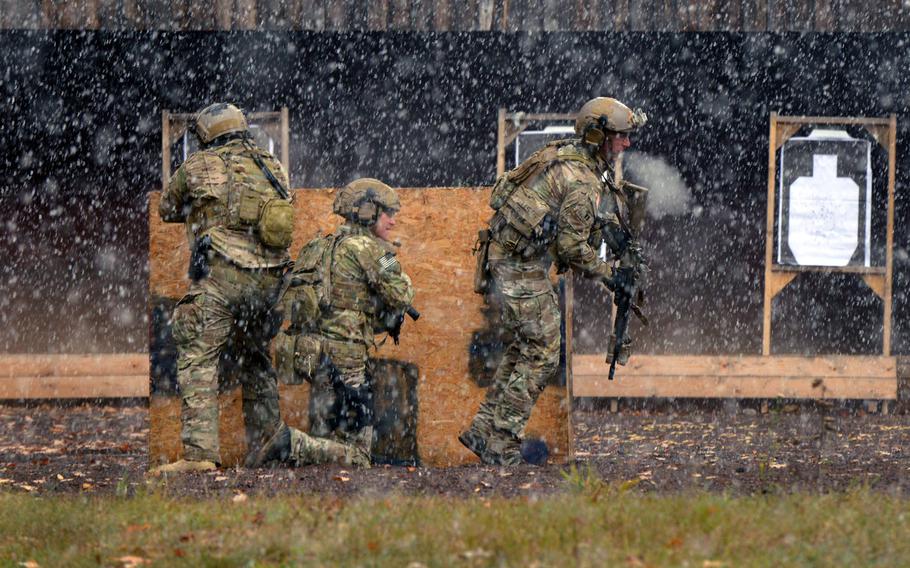 STUTTGART, Germany — The U.S. Army says it will pick up most of the tab for a noise reduction project in the Stuttgart area aimed at quelling local anger over gunfire at ranges used by special operations units.
After years of negotiations with the suburban Stuttgart town of Boeblingen, the Army has said it will pay about $1.6 million to construct barrier walls at two open-air sites at Panzer Kaserne firing range, said Larry Reilly, a spokesman for the garrison in Stuttgart.
The walls "will help deflect the sound as it travels outward from the firing ranges' impact area," Reilly said Tuesday.
Boeblingen will spend about $340,000 on the project, he said.
The military is moving forward with the project even as the Pentagon prepares to withdraw more than 9,000 troops from Germany in line with a directive from President Donald Trump, who has repeatedly criticized Berlin for not spending enough on defense.
It's unclear what units will be removed from the country, but if special operations troops stationed in Stuttgart are sent packing, the U.S. could find itself investing in a range that would be used far less.
The costs for the project have soared since 2018, when estimates for the barriers were about $800,000. At the time, the plan called for Boeblingen to pay up to $340,000 for the project and the military to pay for the rest.
A year later, the project's price tag rose to more than $2 million. When Army officials agreed in July 2019 to pay all the added costs, U.S. European Command intervened and said negotiations were still ongoing.
Now, the military is back where it was — paying all the additional costs.
The noise issue has been a point of contention between the Army and locals in Boeblingen for more than a decade. Over the years, the Army has altered training hours and made renovations to try to improve the situation. Special operations units have shifted some training to other ranges in Germany, but complaints from residents have persisted.
The U.S. Army has been at Panzer Kaserne — a former Nazi military base — since immediately after the end of World War II. Despite being a well-established military hub, the local government allowed residential development near the range throughout the 1960s and 1970s.
Complaints about noise have grown over time, especially after the arrival of special operations units in Stuttgart in the 1990s and when training intensified in 2001, following the Sept. 11 attacks on the United States.
Originally scheduled to start this year, the noise abatement project isn't expected to begin until the spring of 2021, Boeblingen officials said.
"We know that this will continue to test the patience of those affected," the town's mayor, Christine Kraayvanger, told the Stuttgarter Nachrichten newspaper on Thursday. "However, I am convinced that all those involved are making the greatest possible effort to complete this comprehensive project as quickly as possible."
vandiver.john@stripes.com Twitter: @john_vandiver
---
---
---
---