After Hours: Mahika Mano in Tokyo
by
Wyatt Olson
July 12, 2013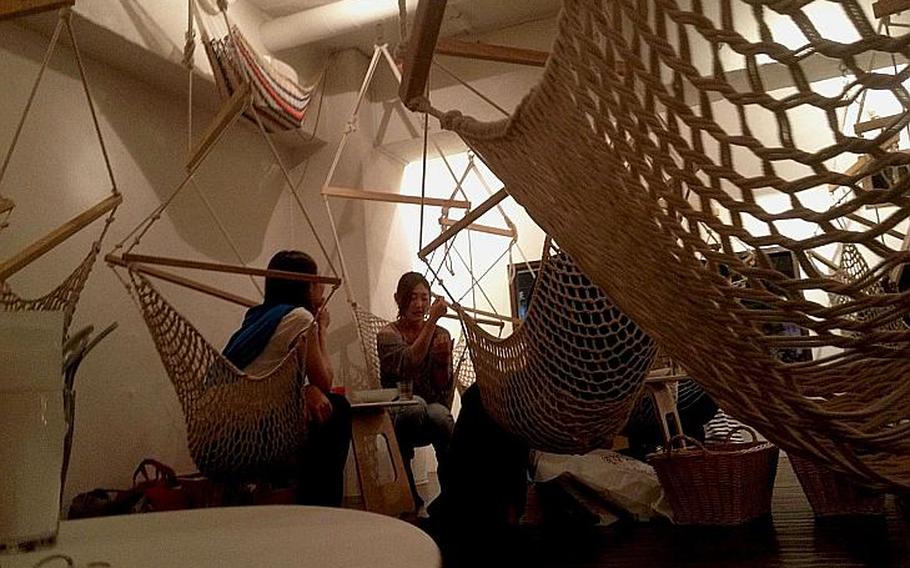 When Christopher Columbus reached the New World in 1492, by some accounts one of the wonders he beheld was a distinctive bed used by the native inhabitants. He described it later as a knotted fishing net strung between two trees — what we now all know as the hammock.
Other early Spanish explorers brought the concept of sleeping in a rope sling back to Europe. It soon became the favored method of bedding down for sailors as a means to remain off the damp, filthy ship decks.
So with 500 years of worldwide hammock popularity, it's about time they've taken their rightful place in a restaurant.
Mahika Mano — or Hammock Cafe and Gallery, as the restaurant translates its name — allows diners, coffee sippers and tipplers to do their thing in swaying satisfaction.
If you've ever been to a beach on the likes of Phuket or Bimini islands, then you know how relaxing it can be to drink while you're rocking. Eating? Well, that's another matter. More on that later.
When a friend and I arrived at Mahika Mano on a recent Saturday evening, a line had formed outside. It was a discouraging sight because if ever there were a restaurant where customers might dawdle in their seats, it would be this one. (Luckily there is a two-hour time limit on seating during peak periods.)
A couple of hammocks in the outside waiting area, however, made the wait a bit less tiresome.
Forty minutes later we were seated by an unsmiling waitress who'd also taken the opportunity earlier to tell me to put away my camera because photography isn't allowed in the cafe. (Although people were taking photos with their phones, which inspired me to do the same.) None of the wait staff could be described as cheery, which is somewhat unusual in Japan and downright baffling in a happy hammock hideaway. Perhaps witnessing so much indolence during a work shift is too much to bear.
The cafe has two kinds of rope seating. One is the full-throttled hammock that envelops your whole body, the kind that Gilligan and the Skipper slept on for an eternity on that desert isle. The other is a reclining rope chair from which you can dangle your legs or entangle them in the cords for a more laid-back feeling.
We were seated at a table for two that had both styles.
I took first turn at the full hammock, and we were soon sipping glasses of draft Kirin Heartland beer. The pleasure was immediate. It was worth the wait.
The cafe has a wide selection of beers, wine and mixed drinks. It also offers original "herb cocktails," including elderflower- and rose-flavored drinks.
It didn't take long to notice that most of the patrons were young couples in love. Depending upon your disposition, that might be endearing or annoying, but it did set a subdued, relaxing mood.
That is, until our grilled sausages and salad arrived.
Now, I'm aware that dining while reclining has a long and ancient history. The earliest known drawing of a person eating in that position is an Assyrian king from 650 B.C., according to the book "Dining Posture in Ancient Rome: Bodies, Values and Status."
Privileged Romans took up the practice zealously during the early years of the empire, and eventually all free Romans ate while reclined, leaning on their left arm and grabbing food with their right. (It became so standard that an early Medieval Italian church mosaic depicts Jesus and the Apostles reclining at the Last Supper.)
But the Romans always lay on stationary couches.
Stabbing at rolling sausages from a swinging position isn't that easy. And neither is delicately dipping them in spicy mustard.
Our solution was to switch seating because noshing was easier from the seated hammock.
We decided to treat our sausage and salad as an appetizer, and after enjoying our drinks in recumbent style, we left Mahika Mano to find a sit-down dinner elsewhere.
olson.wyatt@stripes.com
MAHIKA MANOAddress: 2-8-1 Kichijoji Minami-cho, Musashino-shi, Tokyo
Phone: 0422 42 5930
Hours: Noon to 10 p.m. Monday through Saturday; noon to 8 p.m. Sunday.
Directions: Take the south central exit from the Kichijoji station. Take a left on Suehiro Dori, the first street upon exiting. The restaurant is on the fourth street to the left after passing under the overpass by the station, about 50 yards in on the ground floor.
Prices: Sandwiches and salads cost $5 to $8; other dishes $9 to $10; tea and coffee $6 to 7; beer, wine and mixed drinks $6.50 to $8.50.
Website and map: (In Japanese) mahikamano.com.