A-10 aircraft makes emergency landing in Iraq war zone
---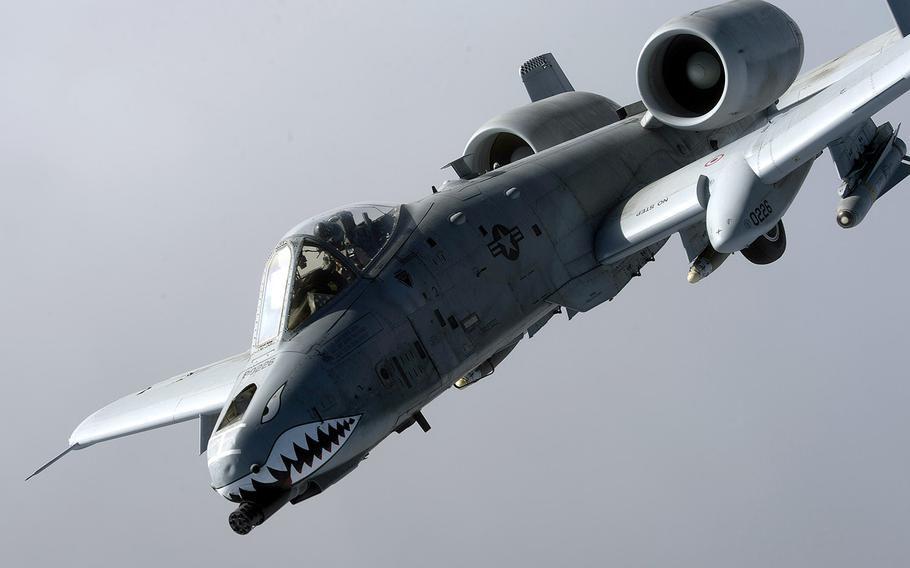 WASHINGTON — A U.S. A-10 Thunderbolt II aircraft had to make an emergency landing at a remote air base threatened by the Islamic State after suffering engine failure over Iraq, the Air Force said Friday.
One of the jet's engines suffered "catastrophic damage" during a "routine" refueling mission, according to a U.S. Air Force Central Command news release.
The pilot was able to safely land the aircraft at Al Asad Air Base in Iraq's volatile Anbar province, according to U.S. military officials.
The Air Force did not say when the incident occurred, and officials at U.S. Central Command did not immediately respond to a request for more information.
Col. Patrick Ryder, a CENTCOM spokesman, told reporters that the plane was not brought down by enemy fire, and he downplayed the incident.
It was "just one of those thing where you're operating very high performance aircraft, occasionally you need to make the landing, get [the problem] fixed, and get back to home base," he said.
A few weeks ago, two U.S. Marine Corps FA/18s had to make an emergency landing on Taiwan after one suffered mechanical problems on the way to a training exercise.
Al Asad is located in a war zone. The base, where several hundred U.S. Marines are training Iraqi security forces, has frequently come under fire from Islamic State militants.
"The aircraft was in a location that was not fully secure and we needed it repaired and flown out of there as quickly as possible," said Col. Michael Stohler, the commander of the Air Force's 332nd Air Expeditionary Group, according to the press release.
Maintainers from the 332nd Expeditionary Maintenance Squadron were flown to Al Asad to fix the aircraft. Because of the austere conditions and lack of sufficient maintenance assets at the base, it took several days to get the jet repaired, according to the Air Force.
The A-10, widely considered one of the best close air support planes in the U.S. arsenal, has been deployed to the Middle East to participate in the fight against the Islamic State.
The Air Force is trying to get rid of the aircraft to save money. That effort has proven highly controversial, and influential lawmakers on the Armed Services Committees are fighting to keep the A-10.
harper.jon@stripes.com Twitter: @JHarperStripes
---
---
---
---